January 19th, 2016
Rusalka is a 2D animation based on the opera of the same name by Antonin Dvořák. The story follows a water nymph named Rusalka who falls in love with a human prince who cannot see or hear her. In order to embrace the prince, she sells her voice to the witch Jezibaba to become a human, though at a price. Unfortunately, this price is realized as he falls for someone else. As a result, she becomes a death spirit. The prince, realizing his love for her, begs for forgiveness, and they kiss, killing him as a result. This animation is based on Rusalka's aria "Song to the Moon," which takes place right before she visits Jezibaba. In the aria, she sings to the moon and prays for the prince to realize her love.
The Team
Commissioned by the Florida Grand Opera, the animation was created by a team of highly motivated Carnegie Mellon Students, including:
Michelle Ma (Director, VisDev, Storyboard, Animation, Compositing)
Miranda Jacoby (Bird Specialist, VisDev, Animation)
Nivetha Kannan (VisDev, Storyboard, Asset Design, Animation)
Swetha Kannan (VisDev, Asset Design, Animation, Font)
Soojin Sohn (Storyboard, Asset Design, Animation)
Eric Yu (Storyboard, Animation)
Emily Zhou (VisDev, Storyboard, Asset Design, Animation)
We corresponded with Rebeka Diaz-Fandrei and received advice from our animation instructor Spencer Diaz.
Production Pipeline
Our 2D Pipeline was divided into three parts (Pre-production, Production, and Post-production) which detailed the work that needed to be done between November 11th, 2015 to January 18th, 2016. Each week we would meet up and show off what we accomplished before splitting up the work that needed to be done. Over winter break, we had Skype meetings to check up on what we each finished.
Pre-production consisted mostly of VisDev and Storyboarding. Production consisted mostly of hand animation and designing assets. Post-production, or compositing and rendering, involved tying in all of the different styles and elements (this was handled mostly by Michelle Ma). Each member ended up specializing in a certain scene, element, or production step. I myself was heavily involved in the storyboarding process, in addition to making some of Rusalka's key poses and doing inbetween animation, especially when Rusalka is in the tree.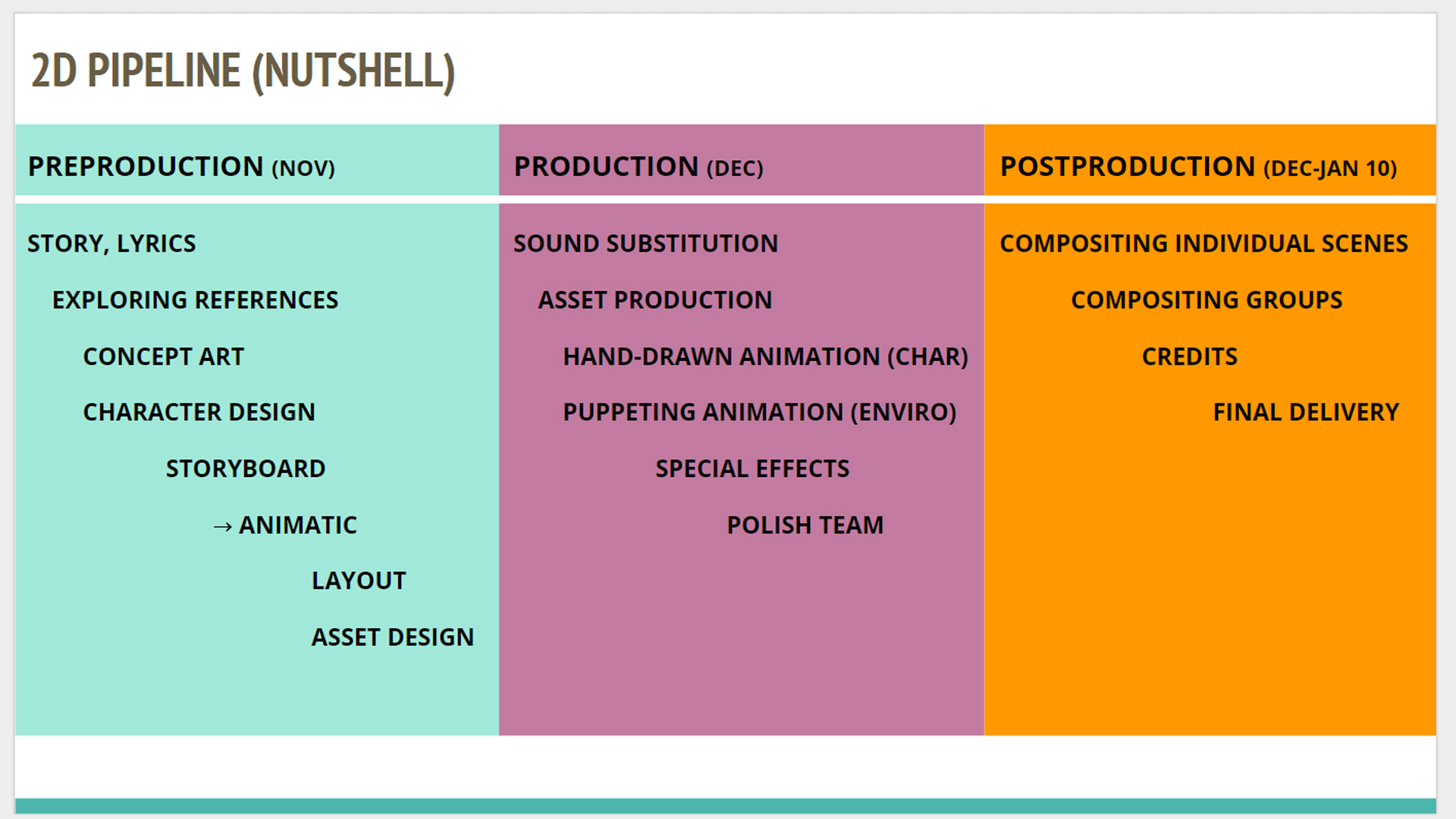 visdev
Visual Development took place in November and consisted of looking up references, drawing concept art, creating a palette, and finalizing character design. One important source of inspiration was the movie Song of the Sea.
We did multiple sketches and renders of what we wanted the space to be. For Rusalka, we decided on a pale white, slender figure with very water-like movements. She initially had no eyes, but we decided to add eyes and make her form more elegant as planning went on. The environments also became more complex, with additional foliage added to the lake. We used many resources as a reference for the lake and its environment, such as other animations relating to water as well as foliage and wildlife in Eastern Europe.
storyboarding
This was the part I was most involved in. Nivetha, Soojin, and I held meetings specifically for developing the story. After developing the storyboards we would present them to the main group for them to critique and analyze it. Important discussions included story cohesion, composition, layout (moon placement and lake layout was a major point of discussion), and her transformation into water.
We closely followed the lyrics of the aria so that we could capture what was going on in the opera with our animation. However, we also took some creative liberties, as can be seen with her interaction with the environment, especially the Prince Tree (or the tree she mistakes for the prince). The Prince Tree is a metaphor for Rusalka's delusional love, a metaphor further emphasized with the placement of animal pairs throughout the animation, such as the birds in the tree, the cranes in the lake, or the fish underwater. The fish especially affirms her decision to embrace the Prince Tree, and we tried to incorporate her water transformations as much as we could to illustrate her passion.
Fun Fact: We had to cut a scene at the end where Rusalka sees the chicken-footed house of Jezibaba, thus tying the animation in with the rest of the opera. However, it had to be cut because we believed the audience wouldn't have understood the scene without context.
Animatics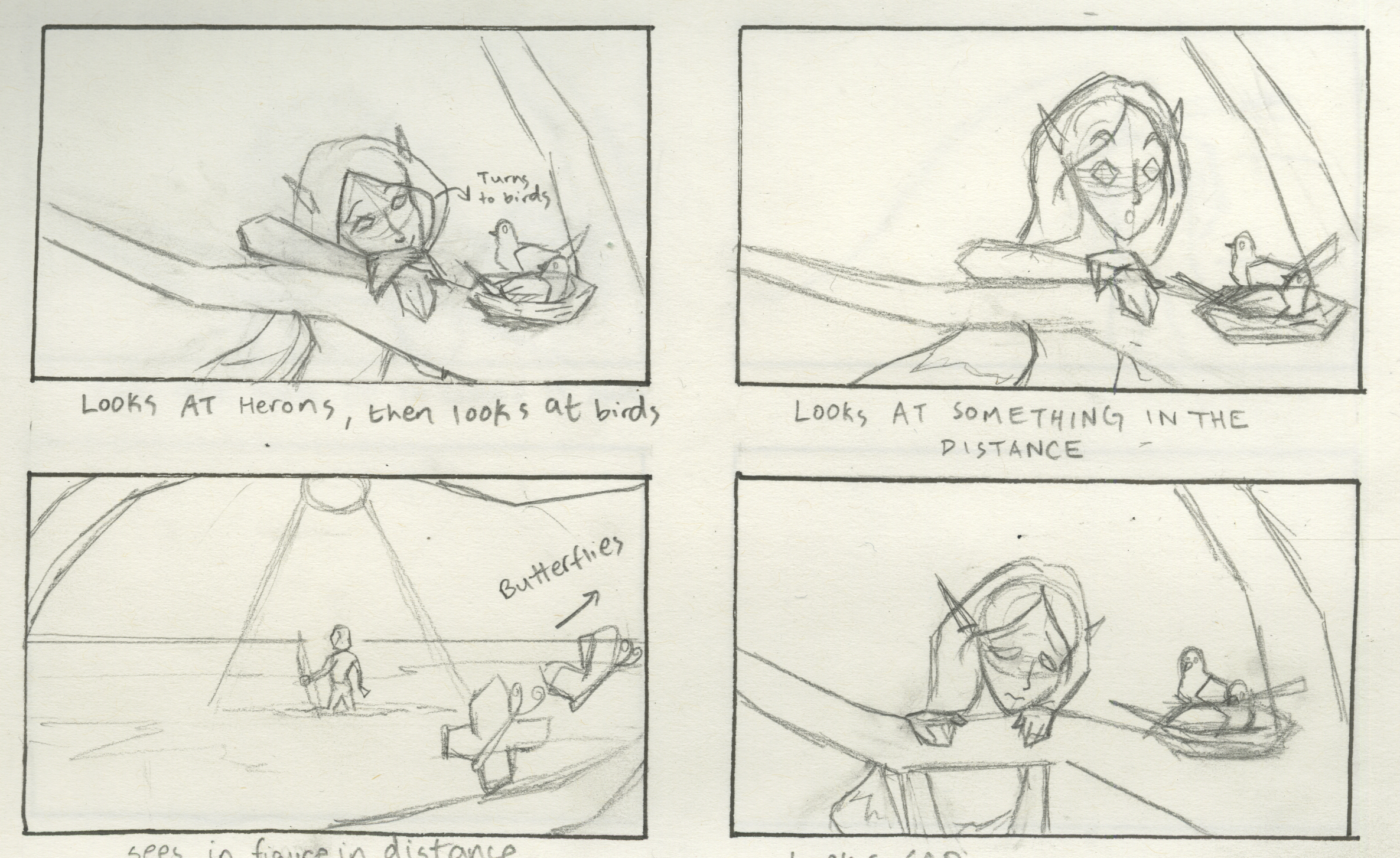 After we finalized the storyboard, each group member claimed a scene to piece together in an animatic. I specialized in the scene where Rusalka climbed the tree and interacts with the birds. We each did a rough animatic before a final, colorized animatic, made by Michelle, was produced.
Asset design, key poses, animation, and compositing
In asset design, Nivetha, Swetha, and Emily created the environments and the foreground assets, in addition to looping assets (bubbles, ripples, and light rays). Soojin played a role in exploring foreground assets such as bedrock and seaweed.
While this was going on, Michelle and I created Rusalka's key poses, which we then used for inbetweening. Everyone took a part in animating a scene; my part involved animating Rusalka's ascent into the tree as well as her actions while in the tree.
Everyone did a fantastic job and worked extremely hard, and we're all incredibly happy with the finished project!
Final thoughts
This was my first 2D animation project outside of school, and it was chock full of experiences that I will never forget. I got to learn what it feels like to follow a pretty professional animation pipeline, complete with constructive criticism and encroaching deadlines. I got to work with my fellow animators and learned what it meant to be part of an animation team, where everyone relied on each to get their job done. Though at times there were hardships, we managed to get a product that we were enormously happy with done. In addition , I also got to learn more about storyboarding, layouts, and posing as well!
As for future collaborative efforts, I'm sure this won't be the last time this team will get together (check out their portfolio sites too)!